Students enrolling at Narayana Business School take away more than just a degree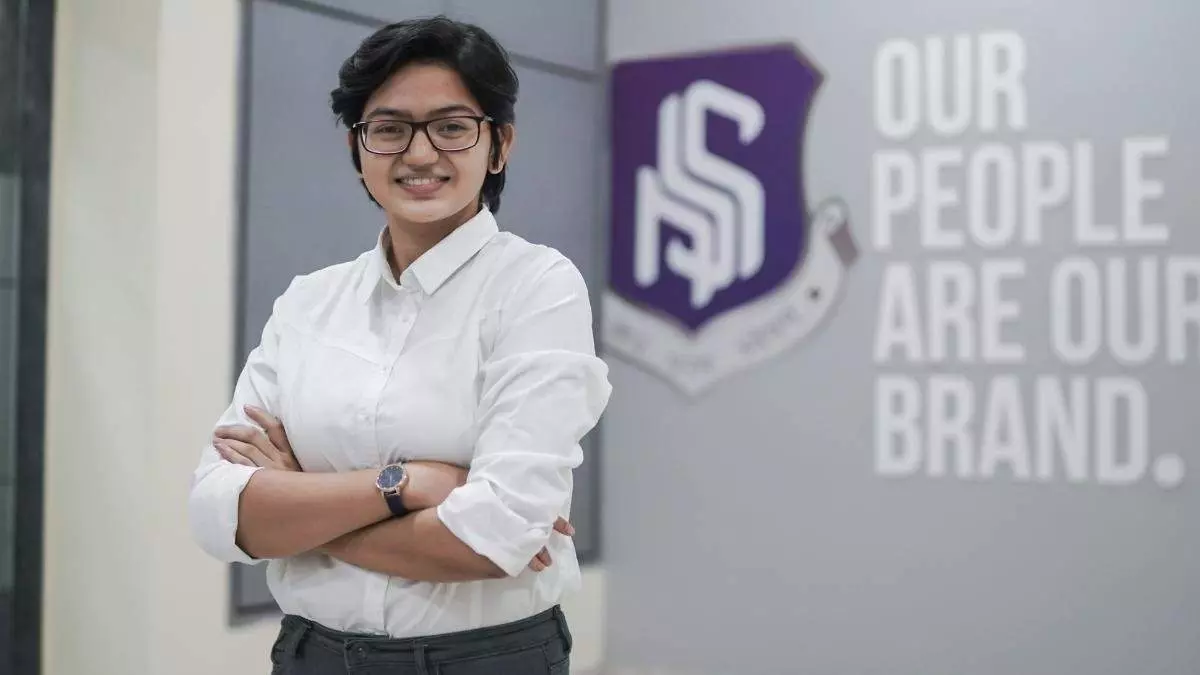 Ahmedabad-based Narayana Business School (NBS) has positioned itself as a premier MBA school that offers students much more than what they learn academically.
With a vision towards ushering in an innovative learning methodology, cultivation of practical skills and an unwavering commitment to academic quality, the Ahmedabad-based Narayana Business School (NBS) is positioning itself as a premier MBA school that offers students much more than what they learn academically.
Narayana Business School, which has established itself as one of the foremost learning institutions on the Indian terrain, has made a name for itself and currently stands out as a leading school of management in Asia. It has been over two decades since its inception and the institution has ensured interactive and inclusive learning that focuses on students' skills to compete in the global marketplace.
According to Dr Amit Gupta, Director, Narayana Business School, "Students who enrol for MBA courses get the doors opened to a practical-oriented curriculum that has been formulated to help them imbibe leadership, management, intellectual and communication skills, time management and create a professional outlook that gels with the highest standard of corporate excellence".
Industrial Knowledge and experience
Narayana Business School, which has successfully stayed ahead of the pack with its well-charted out course curriculum, has carved a niche among the most sought after business schools in India with its committed approach towards imparting excellent industry knowledge to students.
The NBS program runs up to six trimesters, along with a 3-month-long summer internship as part of the curriculum. Students are trained and equipped with a cluster of industry-required value-added programs to meet globally-recognized performance standards. All these make NBS the best PGDM/MBA college in Ahmedabad.
Experience that leads to better decision-making skills, expertise that helps in understanding the changes better, and excellence that creates the fire to strive toward perfection, are the three pillars on which the NBS stands.
Called E3, these three aspects form the right combination that has proved a perfect recipe for the success of NBS. By imbibing in students a spirit of critical thinking and a thought process to encompass all the areas of the corporations around. The macro understanding equips the students to think on a holistic level and thereby make it easy for them to add value in any scenario. Students are trained to create their own worth and challenge their existing benchmarks. 
Dr Amit Gupta added: "Narayana Business School believes in moulding students to blend with the corporate environment through internships and simulations. We help them in developing a focus and thought process required for a demanding job environment through practical assignments".
Corporate recruiters have stood testimony to the fact that they are glad to be hiring candidates from NBS as they possess critical thinking which aids them in understanding the business issues in-depth and thereby come up with feasible solutions to specific problems. The interpersonal skill set learned at the college helps the students to maintain and work through challenging situations.
Students who have passed out of NBS have found employment at major corporates, both Indian and multinational, over the years. The corporate ready vision of the courses offered gets endorsed by the numbers of jobs that have been filled in these major business houses, which include HDFC Bank, Coca­-Cola, TCS, Amazon, and many more.
Cultural Exchange
Apart from the course curriculum, students at NBS are provided ample exposure to cultural activities that help them unwind. Opportunities that throw open the windows to total freedom and flexibility so that they can pursue their passions are ensured year after year.
With more than twelve students' clubs and committees that roll out the red carpet to show off their talents, students actively participate in all events and activities that happen around the year. All co-curricular and extra-curricular activities, including festivities and cultural programs, thus blend into the program, much to the applause of students from various parts of the country.
Besides, skill-building sessions and resume reviews are also organised at informal platforms, thus aiding broad networking opportunities.
NBS CulCom or the Cultural Committee of NBS makes it a point that cultural nights, alumni meetings, conferences and more run parallel with the courses.
Recognising the Creators in Students
Encouraging creativity comes foremost for Narayana Business School. This activity comes alive in the manner in which the premier institution has rolled out its mentor-mentee program for students.
A comprehensive program designed with the fresh students in mind, it has been deployed as part of a three-level strategy of Narayana Business School where freshers get associated with senior students, assigned faculty mentors and industry mentors.
With an edge on fostering creativity right from the start, the program ensures constructive interaction, guidance, and motivation to excel in academics. Further to interactions and guidance from senior students and faculty members, industry mentors are also roped in to help the freshers create the right mindset towards designing strategies for success. They get the right frame of mind to adjust to the culture of giving presentations and submitting practically oriented projects, and thereby develop an all-around skill set.
Developing an Entrepreneurial Skillset
Creating entrepreneurs out of students is a focus area for NBS. The dedicated Narayana Centre for Research and Innovation helps motivate budding entrepreneurs by ushering the students through a state-of-the-art NBSpreneurs cell.
It is here innovations and new ideas are incubated and promoted, said Dr Amit Gupta, adding that "a wide network across the industry segments, the NBSpreneurs cell handholds students with mentorship guidance and financial as well as infrastructural support".
NBS also incubates start-ups by setting in place an initial corpus of up to Rs 50 lakh. The amount is channelled for innovative ideas. Further, it encourages corporate donations too, so that startup ideas are mentored and aided so that they could blossom into major companies.
NBS provides encouragement to startup ideas by ensuring access to a vast network of industry leaders, infrastructure, and also online and offline libraries. Besides, the cell helps in internal networking amongst the incubated start-ups too.
With infrastructure facilities comprising air-conditioned co-working shared spaces, high-speed WiFi access, networking joints, amphitheatre and auditorium for presentations, the start-up ecosystem is an extremely enviable feature at NBS.
Students who arrive to explore the overall course curriculum get used to the academic activities as well as the fun elements that NBS doles out to them. Creating highly skilled, employable youngsters come easy to Narayana Business School. The entrepreneurs and top officials of companies of the current day, who had their grooming at NBS, stand testimony to the nationally-applauded programs that the institution has tailor-made and served to the thousands of students who arrive in a bid to own a degree. They in fact take back much more than just the degree.
For more information, visit www.nbs.edu.in.