Sugar-Milk-Salt: Digpu Talk Show reflects different angles of Human Lives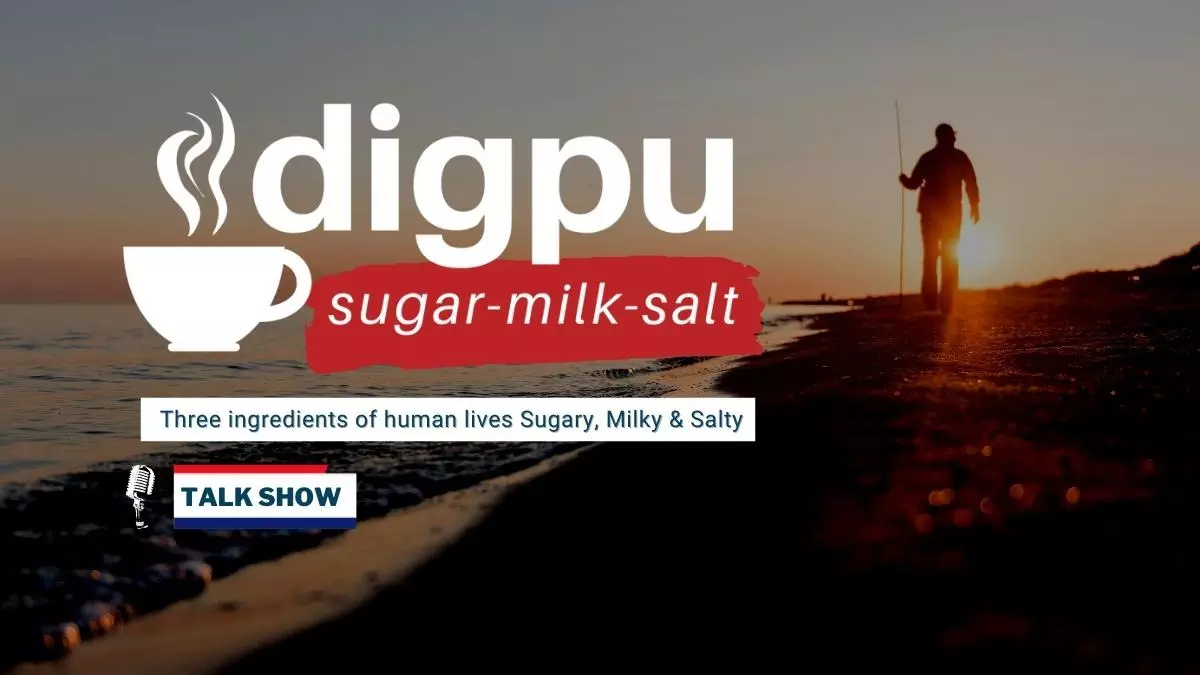 Sugary, milky and salty would define human lives. Sweet as sugar, strong as milk and sour as salt would define every man or woman's life.
Sugar-Milk-Salt. On reading this, the first thought that comes to mind is that this is, indeed, an odd combination. But have you ever imagined the life of every human can be categorised with these 03 ingredients 'Sugar-Milk-Salt.
Take a deeper look. Try taking a look into the innards of what happens with the people you come across every passing day. Try talking to them. And then, you are sure to come across the manifold aspects of their personality, their lives and the twists and turns they have been through. Sugary, milky and salty indeed would define their lives. Sweet as sugar, strong as milk and sour as salt would define every human life.
And, that is what Digpu has been trying to capture in the new series of video interactions with people around for its exclusive talk show, aptly titled 'Sugar Milk Salt'. Celebrities, historians, television personalities, political leaders, academicians, orators, the common man on the street – everyone is part of Digpu's Sugar-Milk-Salt.
Narrating tales hitherto unheard – Season 1
Sugar-Milk-Salt Season-1 launched as on 21st Sept 2022 and the first episode is based on life tales of singer-lyricist Kailash Kher. Every human being who is successful today have once gone through with the extreme problems and struggles in his life. Today Kailash Kher is one of the world's most renowned singer, but there was a time when his life was not easy. Watch video to see Unheard life tales of Kailash Kher:–
Sugar-Milk-Salt to be driven by Reba Ayaz
Bringing it on for you is Digpu's new Creative Director Reba Ayaz. A known name in the media circuit, Ayaz has put in 10-plus years in the media arena having worked with prominent media houses in various capacities. With extensive experience in in journalism, filmmaking, talk shows, and news programming, Reba Ayaz provides more strength to Digpu, as the News Network adds to its profile of servicing more than 400 digital news publishers. Since inception in 2019, the India-based Digpu News Network has spread wings to regions such as the US, UAE, Malaysia and more.
Prior to Digpu, Reba Ayaz has worked under many renowned media houses like Sahara Samay, he has a track record of working under various documentaries, educational films. He was the Chief Producer of "The RKB Shows". He was also the Producer and Director of "The Reba Ayaz Show". And he was the Concept Director of "Mehfil-E-Yaran". He has done many remarkable projects in his career span and is very positive about helping to grow the Digpu News Network as well.
"After having worked in across leading news channels and talk show platforms, I knew that Digpu News Network was a much-needed disruption in the news industry. I was amazed to see the scale and efficiency this news network has achieved in the past four (04) years. I am happy to join this super-charged team to build together the world' leading news network along with a lot of creativity and fun filled experience," Reba Ayaz, Creative Director of Digpu News Network, said.
Welcoming Ayaz to the Digpu fold, (Kunwar) Devender Singh, Founder- Digpu News Network, said: "When I first met Reba, I found that he has a lot of potential and passion about the creative department. His foundation towards leading a News Network was very strong and promising. It led me to believe that his contribution towards Digpu would be immense as well."
With Sugar-Milk-Salt tailored to conquer hearts with unique interview-based tales from all around, Digpu News Network looks to establish its space in the new age media domain with well-made video stories that would captivate the viewers from all across the globe.
You can watch all episodes of Sugar-Milk-Salt at https://www.youtube.com/c/DigpuNews