Syed Ali Shah Geelani's death & the controversy surrounding his secret burial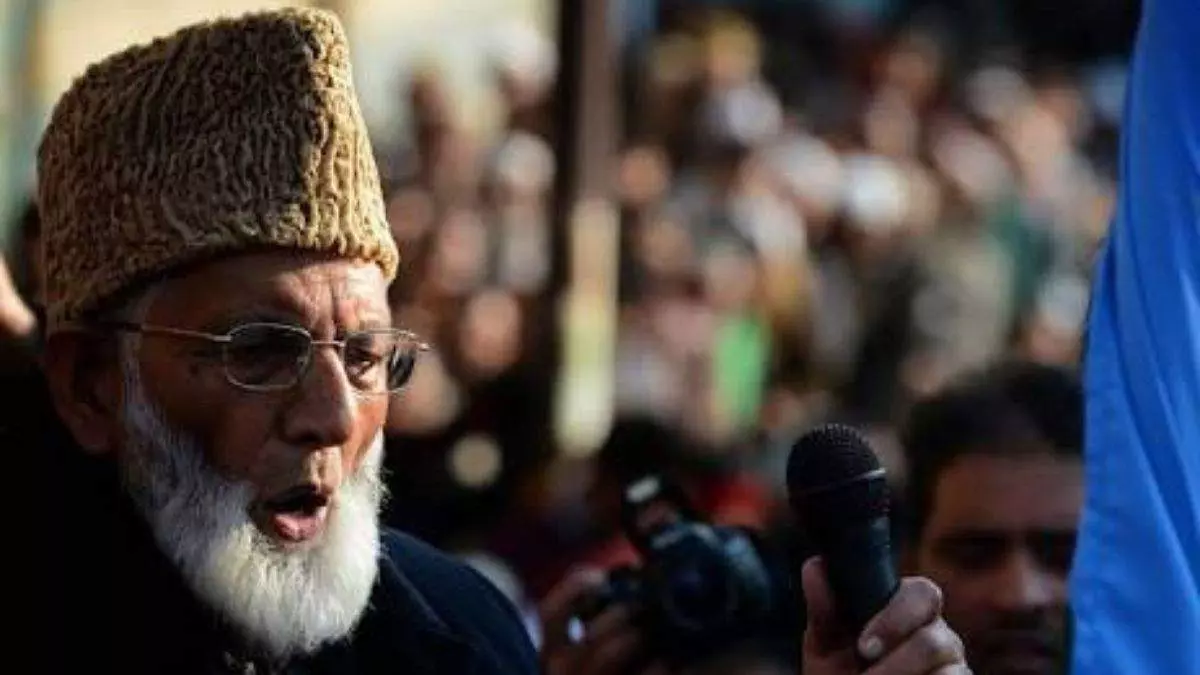 After suffering from acute respiratory ailments, Geelani, the nonagenarian separatist, died at his house in Srinagar's Rehmatabad Hyderpora neighbourhood on Wednesday night.
Srinagar [Digpu News] — Syed Ali Shah Geelani, a key separatist leader who died on Wednesday evening at his Srinagar home, was put to rest in the middle of the night as Kashmir woke to a strict curfew and communication blockade on Thursday.
Geelani, the nonagenarian leader, died at his home in Rehmatabad Hyderpora area of Srinagar on Wednesday night after suffering from acute respiratory problems.
Soon after word of his death circulated around Srinagar, top police officers and members of the CRPF hurried to Hyderpora, sealing his home and ordering the deployment of a large number of security troops to avert a law-and-order situation.
Since 2008, the elderly separatist leader has been held at his home. Since the last two years, his health has been rapidly deteriorating. As a consequence, Geelani resigned from the Hurriyat Conference last year.
Relatives allege forcible burial by J-K Police
A close relative of Syed Ali Shah Geelani, who wished anonymity, said that they had planned to bury the elderly separatist leader after Fajr (pre-dawn) prayers, but that their plans were thwarted by police.
As per him, police barged into the house at 3:30 AM (Thursday) and removed Geelani's body. They later buried it in a graveyard close by.
"We battled hard, as did our ladies, but it was in vain. Two sons of the leader were unable to attend the burial," the relative of the slain leader sad.
IGP Vijay Kumar denied all allegations of police excesses
The police, on the other hand, categorically denied the accusations. Vijay Kumar, the Inspector General of Police (IGP), said that the charges levelled against the police are false.
In fact, the IGP said, there was fear that miscreants could take advantage of the circumstance, so police assisted in carrying the corpse (of Syed Ali Shah Geelani) from residence to graveyard. He also stated that the last rites were attended by relatives of the deceased.
Eye-witnesses paint a contrary picture
However, according to witnesses, only a few relatives were present for the funeral while a significant number of police and paramilitary CRPF men were guarding the place.
An eye-witness said that Syed Ali Shah Geelani was put to rest in a small graveyard, just 300 meters from his Hyderpora house.
FIR filed for alleged anti-national slogans, draping dead body in Pakistani flag
The family of slain separatist leader Syed Ali Shah Geelani and other 'miscreants' were charged on Saturday (September 4) with shouting anti-national slogans and placing the Pakistani flag over Geelani's body.
Budgam Police Station filed a FIR against family members of Syed Ali Shah Geelani along with other 'elements' for shouting anti-national slogans and resorting to other anti-national acts (placing Pakistani flag over the corpse).
On social media, a video of a Pakistani flag draped over Geelani's corpse went viral, which was also extensively shared by Pakistan-based television news channels.
'Under pressure from Pak, Geelani's sons refused to participate in burial'
The refusal of separatist leader Syed Ali Shah Geelani's two sons to come to the graveyard for his burial, according to Jammu and Kashmir, demonstrated their devotion to Pakistan's agenda rather than their love and respect for their dead father.
The Police in a statement accused the duo of changing their mind and not participating in the burial as they had received instructions from Pakistan.
J-K Police tweets videos but journalists question media gag
To support its claim of burial of SAS Geelani as per religious obligations, the J-K Police (Kashmir Zone Police) tweeted few videos.
The body of Geelani was given appropriate ablution, draped in a white shroud, and lowered into the grave amid recitation of passages from the holy Quran, according to video recordings uploaded by the police.
However, many Srinagar-based journalists have criticized the authorities for not allowing the media to cover the funeral of the Hurriyat leader.
Restrictions imposed to 'thwart' another burial
Authorities placed restrictions in various parts of the Srinagar city for five consecutive days after Geelani's death to prevent the exhumation of the separatist leader's remains from the Hyderpora graveyard for burial at the Eidgah Martyrs' graveyard in the old city.
According to a statement released by separatists in February 2020, Syed Ali Shah Geelani had stated his intention to be buried at the Eidgah graveyard.
As a precautionary measure, police said, restrictions were enforced in the city's Hyderpora and Eidgah regions.
Officials said all roads leading to Eidgah and Hyderpora were closed, and drones utilised to keep an eye on the region. According to them, security cameras were already set at the Hyderpora graveyard to monitor 'suspicious' activities.