Tiruchirappalli District Administration in TN Sets Elite World Records for the Title Most Participants in a Chess Lesson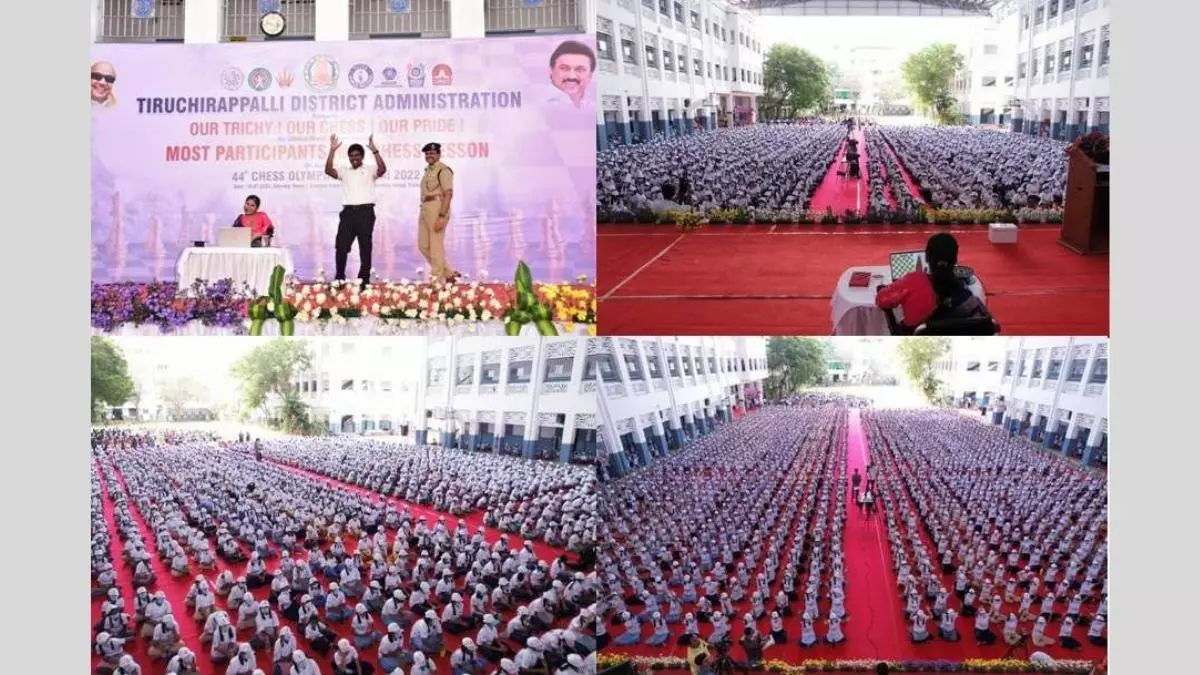 The Tiruchirappalli District Administration managed to execute an event titled "Our Trichy! Our Chess! Our Pride! on account of celebrating the 44th FIDE International Chess Olympiad to be held at Chennai late this month. The District Administration was able to assemble 2140 school students on July 16, 2022, at Campion Anglo Indian Higher Secondary School, where in Ms K.Jennitha Anto, Women International Chess Master handled the Chess Lesson for 2140 participants. This feat has earned the District a place in Elite World Records, Asian Records Academy, India Records Academy and Tamilan Book of Records for the title "Most Participants in a Chess Lesson (Single Location)".
According to the District Collector M.Pradeep Kumar, with a sincere commitment to educate and impart knowledge of Chess in young minds, we have organized a massive event on July 16, 2022, in which 2140 students from 19 different Government Schools, Government Aided Schools, and Private Schools participated. The aim behind the initiative was to fulfil the mission and vision of Honourable Chief Minister of TamilNadu, Shri M.K.Stalin to create awareness on Importance of learning and playing chess among students.
Started with the guidance of Honourable Minister for Municipal Administration Mr. K.N. Nehru and Honourable Minister for School Education Mr. Anbil Mahesh Poyyamozhi, the event soon caught the attention of many as the event progressed with daily monitoring. This event was organised in order to grab the public attention on the 44th FIDE International Chess Olympiad which is scheduled in Tamil Nadu for the first time in the Indian history, he further pointed out.
With the guidance of Dr. V. Irai Anbu, Chief Secretary to Government of TamilNadu, we at Tiruchirappalli District created a new world record in the category "Most Participants in a Chess Lesson" surpassing the existing world record set by Ukraine with 1496 participants.
K.N. Nehru, Honourable Minister pointed out the sincere efforts of District Collector, starting from the awareness created on learning Chess and executing this event, I am sure that this project has motivated lot of young minds to practice playing chess regularly. Due to meticulous planning and proper execution, this project has found a place for the district in entering Elite World Records, he concluded.
K. Jennitha Anto, International Women Chess Master, conveyed her gratitude to Honourable Chief Minister of Tamil Nadu for Conducting the 44th International Chess Olympiad in Chennai which is first of its kind in the history of our country. She also thanked Honourable Ministers and District Collector for giving her an opportunity as a trainer to educate 2140 Students. I am proud to be a part of this massive world record achievement, she determined.
This project has given a platform for School Students to learn Chess and by playing chess the students will have a stress free environment and happy learning. We are pleased to certify this project as a new world record, said Ameet.K.Hingorani,Senior Adjudicator, Elite World Records.
This record attempt has ignited the young minds and motivated them to learn and play chess, I am expecting more National and International Grand Masters from TamilNadu and this event has given a foundation to many students on their dreams for becoming grandmasters in chess, said Dr. K. SatyaSree Gupta, Adjudicator, Elite World Records.
Researchers found evidence that the chess game, which challenges memory, calculation, visual-spatial skills and critical thinking abilities is loved by all ages all over the world. Initiative on organising events like this by the Government is really remarkable and I am sure this project has given a motivation to young children to play chess, said Dr. A.K. Senthil Kumar, Ambassador, Asian Records Academy.
This Visionary Project executed by the District Administration of Tiruchirappalli will be an everlasting asset to the State and that such events will visualize more Chess Grand Masters from Tamil Nadu, said P.Jeganathan,Senior Records Manager, India Records Academy.
This project has created awareness on importance of chess for future generation; this is a new milestone in our state, said Dr.B.BalaSubramanian, Senior Records Manager, Tamilan Book of Records.
On behalf of the District Administration world record titles were conferred to Honourable Minister and District Collector, on the whole this project has gained lot of public appreciation.